October 26, 2020
Master Planning and Concept for Wuhan Mixed-use-Development
---
M2Leisure has been awarded by the Wanda Group to develop a pre-concept document for the upcoming luxury boutique shopping district which will be constructed in Xinzhou in Wuhan, China. M2Leisure developed the master plan and architectural vision for the project and was tasked to turn the development into an experience which is more than purely shopping.
The brief from the client was to develop a shopping street inspired by the Italian Architecture and is filled with 3 main experiences:
These 3 elements are blended perfectly into each other, to make the area a lifestyle district where people come to have fun, eat, drink and shop.
The following activities are planned: large outdoor waterpark, Indoor Snow Park,  ziplines to go around the area, air trampoline, playgrounds, digital fountain, boat tours and a themed climbing tower. Throughout the development there are different  lounge areas and small gardens.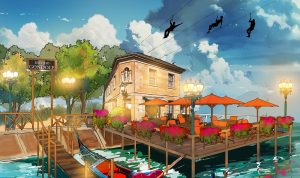 Read more